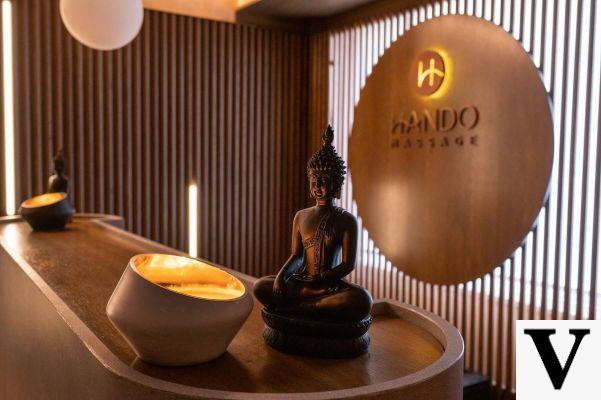 Name: Hando Massage & Spa
Address: Patisiwn 21 athens ps 10677
Phone: 6944111111
Opening hours: Monday to Sunday from 12h to 22h, all year round.
Website: https://handospa.gr/en/
Hando Massage & Spa has been considered as the best massage center in Athens, because it does not offer simple relaxation sessions, but personalizes each of its treatments, taking into account the needs of each client. They have designed a modern premises and a safe space in the center of the Greek city, so that you will feel a physical and mental uplift through a wide variety of treatment options available.
When you walk through their doors, you will notice that this space has been carefully designed so that you can breathe in an atmosphere of wellness and relaxation at all times. They have worked hard to generate a balanced atmosphere for their clients, which results in a minimalist aesthetic of the space, welcoming each and every person and making them feel comfortable. Make an appointment here
The different types of massages in Athens offered by this center.
Thanks to the experience that the experts at Hando Massage & Spa have in the wellness sector, they are able to offer 21 different types of massages, applied by more than 12 different professionals. The only goal is to make you feel good when the session is over and you can go home feeling the peace flowing inside you.
These are some of the most common massages you can choose from.
Swedish massage
This is the best option for beginners, as it treats a wide range of physical aches and pains. Thanks to this technique, you will be able to relax the whole body and improve blood circulation and breathing.
Deep tissue massage
This massage is perfect for those who have muscle spasms, as it will help your muscles relax and eliminate pain and discomfort. If you are looking for a deep and intense massage, this may be your best choice.
Shiatsu Massage
This technique takes the learning of Traditional Chinese and Japanese Medicine and makes it available in the city of Athens, through Hando Massage & Spa. Therapists use the fingers, feet and palms of the hands to practice this deep technique on the body of the patients.
Lomi Lomi Massage
The Lomi Lomi massage is a technique that imitates the waves of the sea to work on the body of the clients. It is an exotic massage from Hawaii and is performed in a rhythmic way, offering a kind of relaxing journey to the people who try it.
Massage with candles
Finally, we want you to let yourself be carried away by the sensations and aromas of candles, to relax every cell of your body. The hot wax contributes to relaxation and increases hydration, and the aromas released in the air allow you to leave stress and exhaustion behind.
Discover now Hando Massage & Spa, the best massage center in Athens and unload all the tension from your muscles, to feel free and relaxed.